Storrington Conservation Society works on a number of sites around the Village. We beleive that long term sustainable management practices are best for wildlife. Therefore we carry out short regular sessions an an ongoing basis on the sites we help to care for.
Sites we are involved in looking after are:
Hurston Warren
This heathland sites lays to the west of the Village and it is a Site of Special Scientific Interest. Our work is to keep the heathland clear of invasive birch scrub to allow the heather and the ecosystem that it supports to floruish.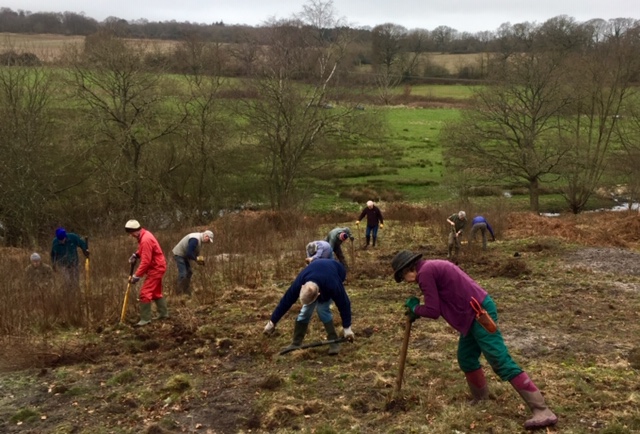 The Riverside Walk
The creation of Storrington's Riverside Walk has been one of our greatest Acheivement. This project is another excellent example of how through working in close partnership with organisations such as Horsham District Council substantial projects can be acheived. The Riverside Walk has been created in three stages and now runs from Meadowside in the east of the Village to Coppice Park in the west. It provides a quiet traffic free rour through the heart of the Village. Our role is to clear back overhanging trees, removind debris and ensuring the the area remains pleasent for people to enjoy.
The Glade
This 2 acre peice of woodland is owned by Storrington and Sullington Parish Council and we help to manage it as a public open space for local people to enjoy. Our work involves the co-ordination of tree felling, maintaining the footpaths and enhancing the sites wildlife value.
West Street Garden
Although only small this garden plays a big role in brightening up the western end of the Village. Our role is to keep the site clear of weeds,  the shrubs pruned, as well as clearing litter, bulb planting and the lawn edged.
Fryern Dell  
This is the site where we have been concentrating a lot of our efforts in recent years. We have been busy restoreing this historic local  landscape with its specimen trees, waterfall, riverside path and wild flowers. Our future priorities for the site are to:
Keep it safe for visitors by dealing with any dangerous trees and other hazzards.
Working to restore the Balancing Pond
Improving the biodiversity of the site.