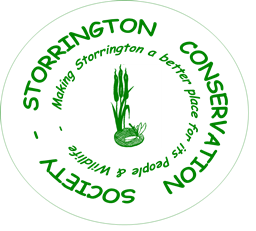 We are a dedicated group of like-minded individuals who care very much for Storrington's environment and  we take practical action to improve it for both people and wildlife.
Stop Press:
Storrington Conservation Society has joined forces with The Friends of Meadowside to enter the Riverside Walk into South East In Bloom annual competition for conservation Areas. The judging is taking plac on Friday 11th July. We hope that the judge is impressed with the hadr work that both organisations and other community organisations have put into making the walk such a wonderful asset for the Village.
Update
We have now started to implement work as part of its excitiing major project to improve Fryern Dell, the grounds of the former Fryern House. We are also looking for anybody within the the village who may have known the site in years gone by. We are looking for documents, photographs and personal recollections. If you can help please get in touch.

Since its formation Storrington Conservation Society's Achievements include:
Undertaking a variety of conservation projects such as pond management, tree planting, footpath and management.

Achieving over 5,000 volunteer workdays in making Storrington a better place for its people and for wildlife.

Raising awareness of wildlife related issues at our periodic lunchtime talks.

Establishing and co-ordinating a weekly programme of Healthy Walks

 

in and around Storrington.

Being one of the major voices in convincing the District Council to build the Riverside Walks and carrying out the major refurbishment of the Mill Pond

..